Festival Features and Speakers
Enlist your most creative and curious students to attend! Realize: this is not for Geeks only! XR will involve any student, with any academic interest, who is curious and creative, even if not "techie."
Student Presentations
In the fall of 2021, schools were invited to attend the XR Festival. Four schools – St. Croix Academy (West St. Paul, MN), Luther High School (Onalaska, WI), Northland Lutheran High School (Kronenwetter, WI) and Fox Valley Lutheran High School (Appleton, WI) – engaged in the school-year-long "XR Project," that is, they formed student teams to explore the question: how can XR technology be used for education and outreach? Their findings, discoveries, and creations will be presented in a showcase at the Festival.
Keynote Presentation

Christine Lion-Bailey
Expert in emergent XR technology and its impact on learners, Christine Lion-Bailey has promoted AR and VR in her own "Certified Future-Ready" New Jersey school district and in local, national, and international conferences. A Google-for-Education certified innovator, a BrainPop certified educator, and adjunct professor of educational technology at Ramapo College of New Jersey, she is Chief Strategy Officer for Ready Learner One LLC, providing educational solutions with emergent technology for educators in K-12 and higher ed. Her new book, Reality Bytes: Innovative Learning Using Augmented and Virtual Reality, came out in January 2020. Prof. Lion-Bailey says, "By leveraging VR, educators can expose students to the world far beyond the walls of their communities, make international connections that build empathy and awareness, and foster informed and motivated global citizens who will someday become global decision makers." Read more.
Feature Presentations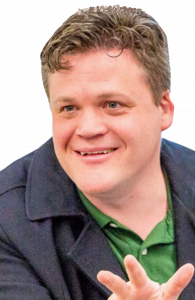 Brian Klebig
Bethany's own Brian Klebig brings to the Festival his experience as a designer and manager of the CARISMA state-of-the-art VR Laboratory at Michigan State University. A professor of Communication at Bethany Lutheran College and Seminary, and an ordained Lutheran minister, Dr. Klebig has devoted many years to discovering ways of using technology of all kinds to reach new audiences with Gospel messages.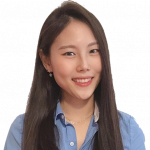 Star Kim
Byeol "Star" Kim, a 2011 graduate of St. Croix Lutheran High School, holds a Ph.D. in Mechanical Engineering from Johns Hopkins University with a specialty in Human-Computer Interaction and Virtual Reality. She applies her expertise to medical applications, in particular studying fluid flow in the heart. While still in school she founded her own business, CorFix Medical Inc, which offers AR and VR tools for diagnosis and treatment of heart disease and provides virtual simulations of heart surgeries. She was a recipient of the FDA's fellowship (ORISE) where she investigated patient specific surgical cutting guides for total knee arthroplasty surgery. She has taught statistics at the University of Maryland, College Park and human-robot interaction at Johns Hopkins University. Post graduation, she turned her career into management consulting at McKinsey & Company. She says the theme of her presentation would be "Innovations for personalizing medicine". The talk may entail all or some of the following topics: VR telemetry system design and testing, addiction therapy, cardiac diagnosis/training, and cardiac surgical planning.
Additional Features
——————————————————————-
Breakout Sessions
to discus challenges, resources, and opportunities
Discuss the book Reality Bytes with its author Christine Lion-Bailey
Experience Bethany Lutheran College's E-Sports Varsity competition
Explore Bethany Lutheran College's Division I Hockey telecasts
Learn about Bethany Lutheran College's Media Arts Major
Hear what our corporate partner ByteSpeed can offer you
 ——————————————————————-
Registered attendees will be eligible for valuable door prizes including an Oculus Quest 2
     ——————————————————————-
Go back to Festival Main Page