by Logan Schroeder, Student at Wisconsin Lutheran College
Hello all, my name is Logan Schroeder, and I am a current student at Wisconsin Lutheran College. I am working alongside Daniel Plocher on a public relations project for a one of our classes at WLC. The two of us are currently running a public relations campaign for The Christ In Media Institute. When doing our background research on the organization, we noticed it had a special mission – to use the ever-expanding technological world in a positive way by using technology and media to spread the good news about Christ through the Gospel.
Since the beginning of this semester in February, we began to think of ways in which we can help The Christ In Media Institute through our public relations class while also strengthening our public relations skills and experiences. We developed a plan and are now two months into it. We met with Dr. Tom Kuster over Skype several times to discuss ways in which we can help boost The Christ In Media Institute's online presence and engagement.
Our plan to do this was by starting and running the #ShareTheSavior campaign, through which the Gospel would be spread through media, but also to increase the number of followers of The Christ In Media Institute both on Twitter and Facebook. The idea is for students to post their favorite Bible passage on either Twitter or Facebook and then tag @cmiblc and include the #ShareTheSavior phrase at the end. All those who participate have been automatically entered to have a chance to win a $25 gift card to Target.
To promote this campaign, we created a poster outlining the steps students can take to participate: 1) Follow The Christ In Media Institute on Facebook and/or Twitter, 2) Post your favorite verse, 3) Include #ShareTheSavior at the end, and 4) Tag @cmiblc at the end. We printed off these posters and had them distributed at Wisconsin Lutheran High School, Manitowoc Lutheran High School, and our school, Wisconsin Lutheran College.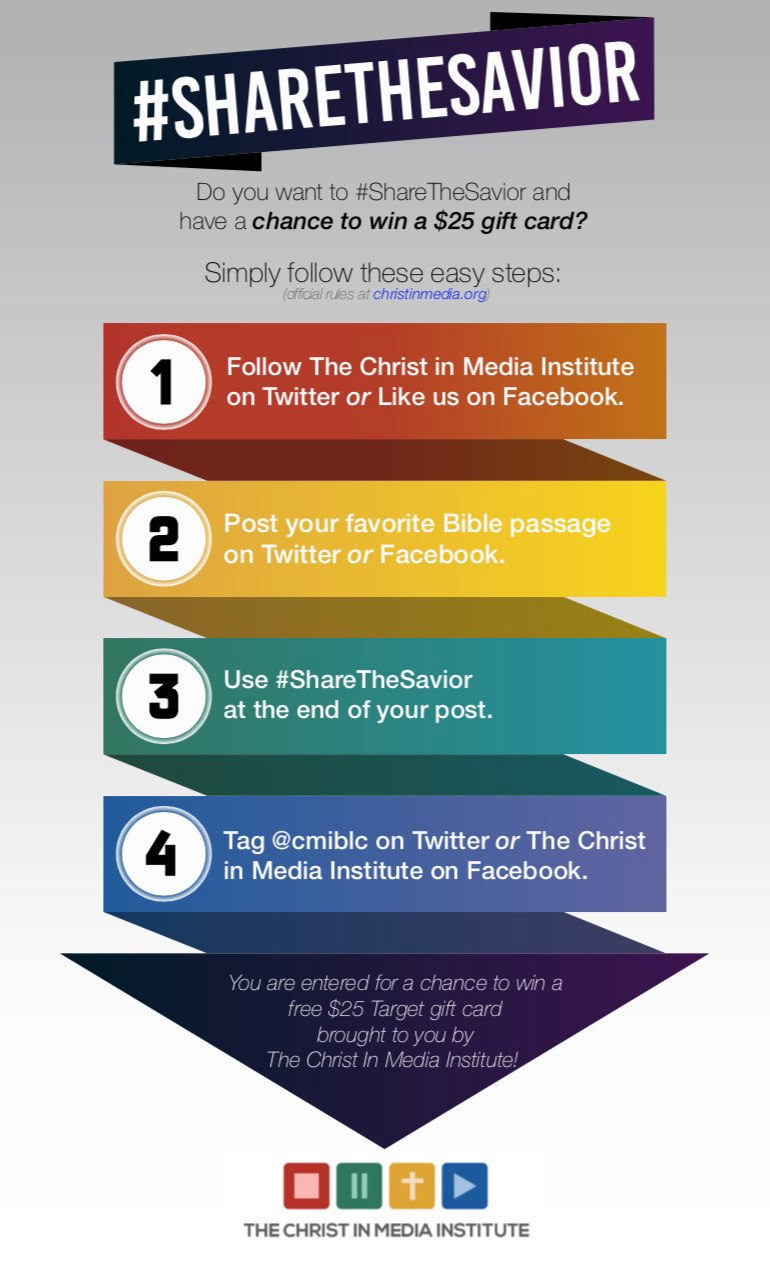 We also sat at a table during lunch at Wisconsin Lutheran College, handed out flyers and gave more information to the students about The Christ in Media Institute and the #ShareTheSavior campaign. Many of the students we interacted with thought that it was a great idea to try and boost the amount of Jesus shared on social media.
As many people know, social media outlets are usually flooded with bad news and political discourse. To have the ability to brighten someone's day by seeing the love of Christ shared on social media is extremely important.
We urge you to join the campaign as well! Although the target audience is mostly college and high school age students, anyone can be entered in this sweepstakes to win the $25 gift card and MORE IMPORTANTLY, everyone should want to spread the good news of Jesus, especially in this joyful season of Easter.
What a great reminder that we have from our Savior in the words of Matthew 28:19-20:
"Therefore go and make disciples of all nations, baptizing them in the name of the Father and of the Son and of the Holy Spirit, 20 and teaching them to obey everything I have commanded you. And surely I am with you always, to the very end of the age."
Jesus wasn't just speaking to his disciples here, he was also talking to you and me. Think of the amount of followers you have on Twitter, or how many friends you have on Facebook. What a great and easy opportunity it is to reach all of those people just by posting a single Bible passage on one of these social media platforms.
Together, we can help spread God's Word through social media, and maybe help gain some traction for The Christ in Media Institute along the way. We hope that you will join us in our #ShareTheSavior campaign.