By Lorenz Holland-Moritz
[Note: We were privileged to meet Lorenz Holland-Moritz during the CELC conference in Grimma, Germany, last year, and welcome him here as a guest blogger. Active with technology among the congregations of the Lutheran Free Church in Germany (ELFK), Lorenz was one of the presenters at the 2017 GOWM online conference.
From time to time he sends us an update on the work in Germany. Following his stated preference for short rather than long, I'll split his latest report into three posts.
This one references his plans to develop short outreach videos. – T. Kuster]
Thank you for sharing the Good News through the Christ in Media Blogpost updates. The featured articles are interesting to read and very inspiring to me and the media work of the Lutheran Free Church in Germany (ELFK).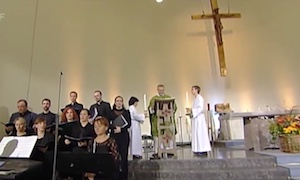 The ELFK has invited me to do a little presentation during the church synod this coming May about what can be done to represent our faith and confession better on platforms like YouTube and on social media. There is an empty space in the internet (at least in Germany) for good Lutheran doctrine. We already serve a small group of Christians with weekly worship live streaming and I hope this could also reach other people who haven't heard the Gospel yet.
But wouldn't it be great to find sorts of media that are easier to consume making it more interesting to a bigger audience? For instance: I much prefer watching an episode of the Peace Devotions over a whole Sunday service where I kind of have to pick the parts I'm interested in if I don't have the time to follow it completely. I can also share a short Christian clip with friends, knowing that they will more likely watch it to the end. The average view time of our church live streams is one to two minutes. So it's easy to guess that this is the amount of time that the average YouTube viewer concentrates on one video. But there is no such video format in our church. Yet.
Ideas are already there and I would like to find fellows for the realization of small media projects within the ELFK. During the last years I have gained some experience in producing podcasts, video and visual arts with my congregation in Dresden. Now I want to ask for collaboration with the Ministry for Evangelization and Gospel Outreach (Amt für Evangelisation und Öffentlichkeitsarbeit) in order to carry out official projects with the help of pastors. I will let you know if we come up with something.
Two more things:
One YouTube channel I've been following for the last months is called the DSLRguide. It's a good example for beginners and young professionals involved in video production. Although not made in a Christian sense, some of his general statements about filmmaking are particularly helpful for Christian collaborations such as "Important is, what's in front of the camera, not the camera itself" or "Put other people before yourself." This channel to me has become an important source of information and has shaped my view on technology and quality of production quite a bit.
I'd also like to thank Greg Vandermause

[Studio Director at Bethany Lutheran College] for his inspiration and insight into filming during the CELC convention in Grimma. I was merely observing his work from a distance but he gave an excellent example for the ELFK media work. We are starting very small. Still, I hope we can learn and grow over time to help get some valuable content online that people aren't only interested in but can actually profit from. We have a great calling of our Lord, so it's at least worth trying.
Thank you again and many greetings to America and the ELS! I hope you had and still have a blessed Easter season! I'm very happy to share this celebration with you, there is no distance too far being one in faith in our resurrected Lord Christ, praise him all nations!