by Amanda Q. (Christ in Media partner)
This is the first of a series of profiles written about partners of the Christ in Media Institute. Read more about becoming a partner.
I have something of an unusual history with Professor Andrew (Andy) Overn. He was my undergraduate mentor before we became colleagues. After working for a time in unrelated departments, we now teach design together at Bethany Lutheran College. As a student, I often wrestled with the crippling fear of life after graduation. The advice Andy gave to me a decade ago has become a personal mantra: "don't listen to your feelings, " he said with a smile on his face. I told him the same thing when he was unsure about being featured in this story.
I used to think of Andy as the design guy. Over the years, I began to see him as more of a philosopher. As is typical for artists, he has deep and varied interests in areas such as music, politics, and economics (his favorite book is A Conflict of Visions by Thomas Sowell). When I asked others to describe Andy, the words "energetic" and "creative" were at the top of nearly everyone's list. His former students told me he had made a huge impact on their lives. His colleagues described him as incredibly skilled, invariably humble, and highly respected. In one of my favorite responses, Kate Schulz characterized Andy as "mysteriously youthful" (it's true) with a "vibrant authenticity." She also noted that his "every interaction breathes intention." This struck me as the perfect way to describe the man who had first taught me about intention as the distinguishing trait of the designer.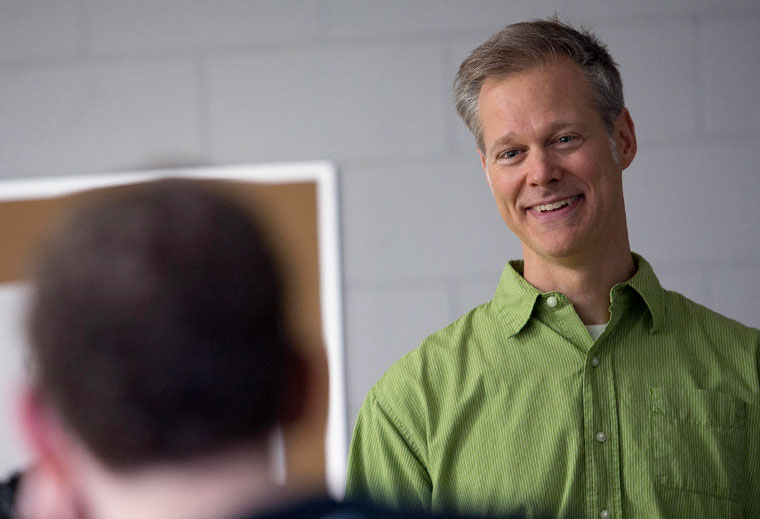 As a kid, Andy had a natural aptitude for art and drawing (one of several traits that could be linked to his left-handedness, which also sets apart his illustrations as he shades in the opposite direction of right-handed artists). His interest in graphic design was a matter of practicality—he remembers that using a computer for design felt like a "magic trick." Andy further explains that his temperament leans towards the design world, where there are more objective criteria for quality. This is something that permeates every course he teaches, most of which are focused on graphic design and illustration. The latter represents an intersection between art and design: "I suppose I'm an illustrator who likes design. Or maybe a designer who likes to draw. Most accurately, I'm an arts educator who likes drawing and design."
Andy attended Bethany (when it was a two year school) and the University of Wisconsin, Madison before earning his MFA in illustration from the Savannah College of Art and Design. After graduating from SCAD, he worked in the art, music, and theater departments at Bethany for three years before moving to Texas with his wife, Laurie, who had been accepted into a graduate program there. While in Texas, Andy worked as a designer for a company called Electronic Data Systems. They didn't expect to come back to Mankato, but Andy was asked to return to Bethany to help build the curriculum when the college was transitioning to a four-year school. It was a challenge he couldn't turn down. "I believe that creative aptitude is the primary requirement in any job worth having," he stated. "So I wanted to help others participate."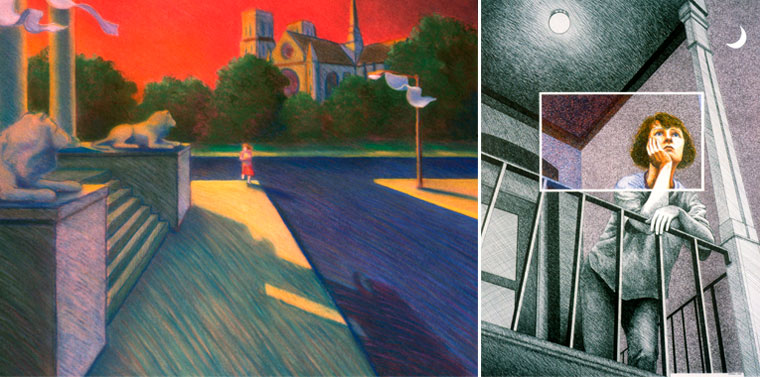 Left: "Lions," a 4 ft wide pastel piece from a series in grad school.
Right: "Loving the Alien 5," a 20 x 24 inch narrative illustration made with pen and ink.
In the 20+ years since Andy came to Bethany, the arts programming has grown quite a bit. Bethany has since added a media arts major, which includes video and motion graphics, and the college has recently made graphic design a major of its own (upgraded from the track it previously held under studio art). Andy has played an instrumental role in expanding the design curriculum and is one of several people who should be credited for its success. "I struggle with the fact that while people love the products of a creative mind (art, music, literature), they don't necessarily respect the development of creativity," he admits. Andy's focus on creative thinking is a natural fit for a liberal arts college, and it's harder than you might think to maintain that focus in a field that also requires strong technical skills and refined craftsmanship.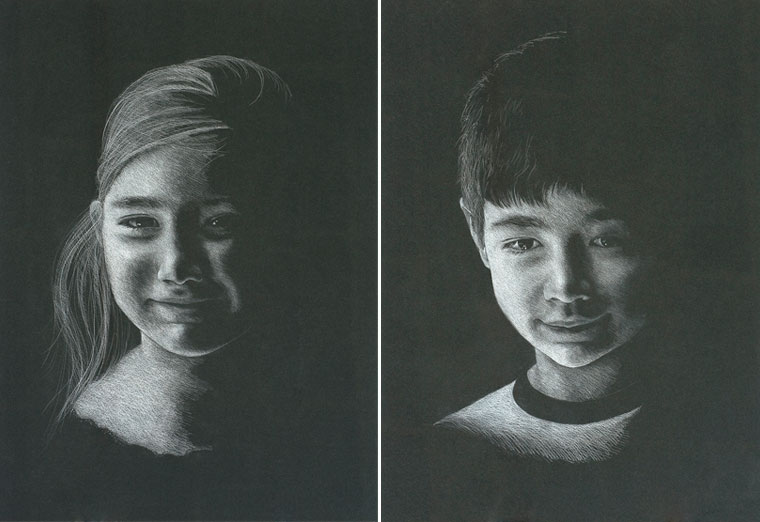 Portraits of Andy and Laurie's children, Mizha and Ian, drawn in 2009 (each 14 x 9 inches).
I asked Andy what he would do if he had to choose another career. He made sure to tell me that God had led him to the place he was meant to be before admitting that he had "always wanted to be the drummer in a very successful musical group. Not the lead, because they are nearly always ruined by fame, but the drummer because he can go anywhere he wants and not be recognized (provided they don't self-destruct first)." It just so happens that outside of his work at Bethany, Andy is the drummer in The Divers, a Mankato-based folk rock band. While he isn't often recognized and certainly isn't ruined by fame, the band is successful enough that most of my immediate family members were starstruck when I told them that Andy Overn was my professor.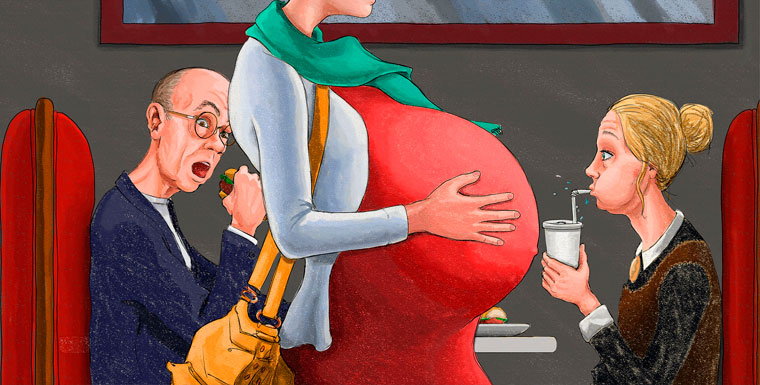 A recent image, digitally-drawn,  from a personal project leading eventually to an animated music video for a song Andy wrote with The Divers about his wife's first pregnancy.
I was not at all surprised that when I asked Andy to name his favorite thing about being an arts educator, his answer was less about art and more about people: "A person changes a great deal between the ages of 18 and 22. Students move from a high school attitude to that of a real live adult person almost right before your eyes." His understanding of the student as a whole has undoubtedly strengthened his efficacy as a teacher. When I was a student, Andy not only taught me design skills but also gave me the confidence to use them. He encouraged me relentlessly as a designer while reminding me of more important things.
To that end, many of the people I asked about Andy described a strong sense of purpose and mission mindedness. The source of his motivation is this: "Like many Christians I am dissatisfied with the current state of our intellectual and cultural climate. The best means at my disposal for influencing culture is in trying to inspire others who will likewise engage with and influence culture." This worldview is quite obviously related to the mission of the Christ in Media Institute and commendable on all counts.
If I had to boil it down to two things, I would say that Andy is strongly associated with both pragmatism and personal impact. Practically speaking, he has equipped generations of students with tools needed to find fulfilling work. The source of his personal impact is more difficult to pin down. Perhaps he's best described in simple terms: Andy is smart and measured, charming and likable. He puts his students at ease and gets to know them as people. He has made an indelible impact on my life and continues to do so to this very day. I'm grateful for the years we've spent working together, and I aspire to become half the teacher he is.
Andy Overn on Technology:
"I taught my first digital course in a lab of Mac classics, and prints were made with a dot matrix printer. It's sobering to see these things in museums now. Art requires you to be creative, and technology can make it fun if you have the temperament for it.
A common misconception is that technology makes creative work easier. No one will argue that the Internet hasn't made everything more convenient—I remember having to search for resource images in a place we called the Library. But any tool is only as good as the person using it. Making good work is difficult no matter the medium."
Andy Overn on Christian Media:
"I'm amazed every time I read C.S. Lewis. I suppose my favorite of his that I've read so far is The Weight of Glory. He is an extraordinary apologist not only for Christianity, but also for creativity and reason itself. An excerpt:
'If minds are wholly dependent on brains, and brains on biochemistry, and biochemistry (in the long run) on the meaningless flux of the atoms, I cannot understand how the thought of those minds should have any more significance than the sound of the wind in the trees.'"